PIUSI 240V AC Pump with ST Box combo - Lockable Cabinet, option to high and low flow
Tax included.
View full details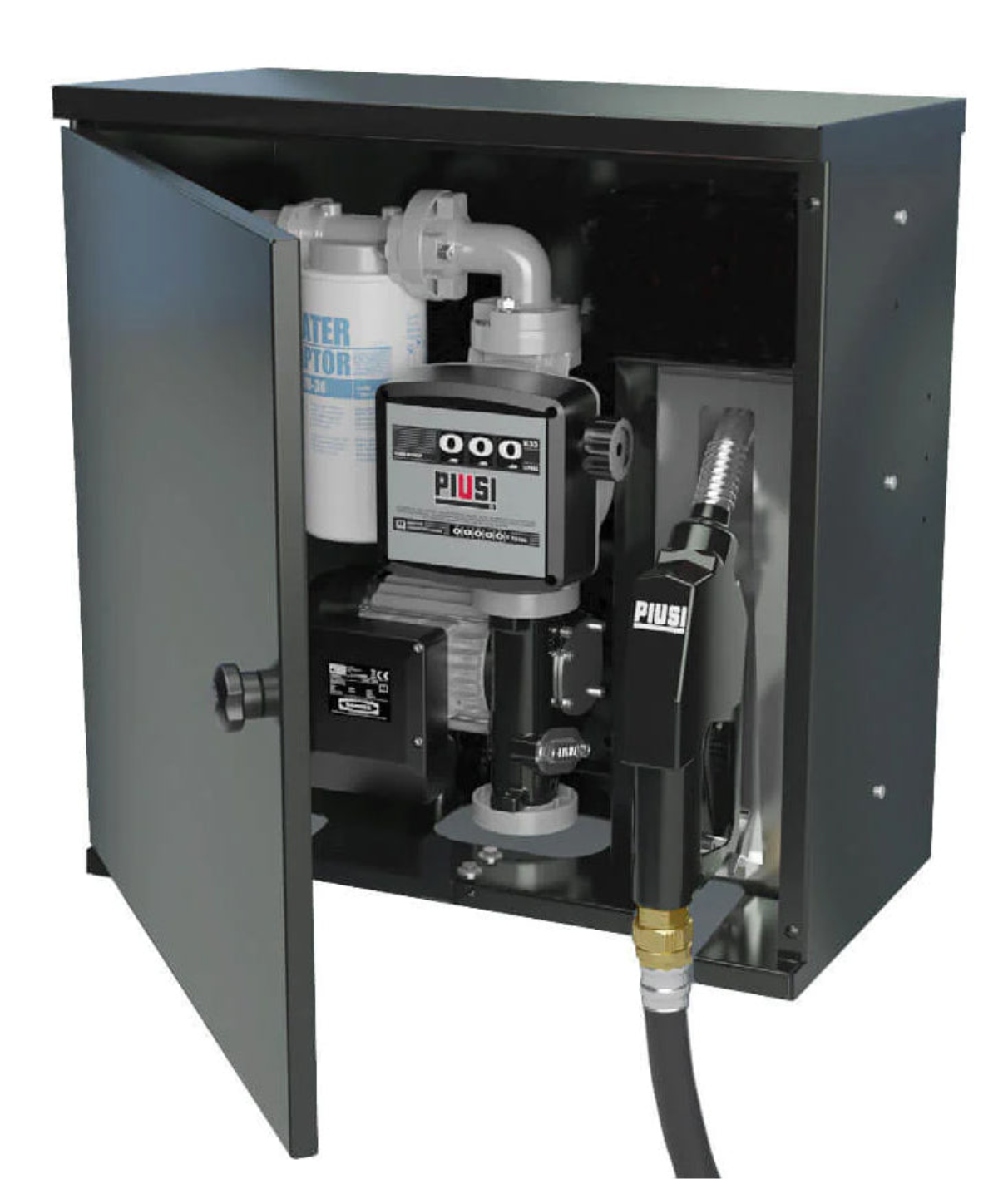 Description
PIUSI 240V AC Pump with ST Box combo - Lockable Cabinet, 85lpm
The PIUSI ST BOX is a diesel refueling station complete with pump, flow meter and filter, with lockable metal protection box. The unit is complete with antistatic hose for diesel fuel and automatic dispensing nozzle. The Pro version features the electronic access control box Access 85.
PUMP 240V AC PIUSI ST Box F00365050 Lockable Cabinet, Piusi E120 Self Priming Pump, ON/OFF switch, K33 meter, water-absorbing filter, 8m delivery hose, automatic shut off nozzle, 80lpm flow rate end of nozzle.
The Piusi ST Box diesel transfer pump is a self-contained pumping system, in a sturdy steel locking box designed for simple and safe refuelling activities.
Depending upon the refueling location, this Piusi pump can be mounted on either a static or mobile fuel storage tank.
The ST Box diesel transfer pumps are available in Basic and Pro versions depending upon the customer requirements.
The Pro version of the electric fuel transfer pump is able to control access to the pump via coded keys. It also supports integration of a level sensor to stop the pump should the fuel level drop too low in the fuel storage tank. This combined with the addition of an emergency stop and pump timer creates a very safe, user friendly easy to install diesel dispenser
Features
 include:
Steel Locking Box Fuel Dispenser
Incorporated Bypass Valve
Piusi E120 Pump
Flow Rate 120ltr per min 
30 Micron Water Filter
Piusi K33 3 Digit Mechanical Flow Meter
Piusi A120 Automatic Nozzle
Available in 110V or 230v 
Order online with Piusi Shop and get free shipping Australia-wide today! 
Downloads 
PIUSI 240V AC Pump with ST Box combo - Lockable Cabinet, option to high and low flow