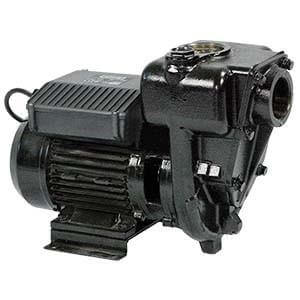 Description
PIUSI E300 240V AC Pump - 550lpm
The PIUSI E300 is an electric pump with open impeller suitable for all applica- tions in which high-flows are required. Thus, it is the ideal equipment for topping up and transferring diesel from drums. It comes with an incorporated check valve in the suction port to prevent the siphon effect while ensuring automatic re-pri- ming.
High flow rate self-priming electric pump with open impeller for diesel fuel transfer applications.
Free Flow Rate up to 550lpm (132gpm)
Check valve incorporated in the suction port prevents the siphon effect and ensures automatic repriming.
Max working pressure: 10 bar
Continuous duty with 230 Vac power supply - option for 110V AC
Cast iron impeller
IP44 protection
2" In/Out connections - BSP Standard - option for NPT
Power 1500 watt / 9.2 amp draw
Order online with Piusi Shop and get free shipping Australia-wide today!
Downloads
PIUSI E300 240V AC Pump - 550lpm