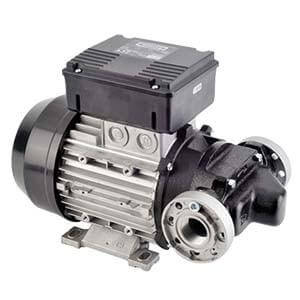 Description
PIUSI E120 240V AC Pump - 100lpm
The PIUSI E80 and E120 are self-priming rotary electric vane pumps, com- pact and easy to install, suitable to meet all those use requirements needing a high-performance and long lasting product. Its sturdy structure along with the thermal protection and the top-quality components allow its use at low working temperatures.
PUMP 240V AC 100lpm Piusi Diesel Transfer
The Piusi E120 diesel transfer pumps are compact units suitable for a number of applications, particularly those requiring high flow rates.
Provided that mains power is available, these Piusi pumps can be installed in any fixed dispensing system.
The E120 diesel transfer pump has an incorporated bypass valve and can be quickly switched off by its on/off button.
Self-Priming Electric Fuel Transfer Pumps
Incorporated Bypass Valve
Flow rate: 100ltr Per Min (depending on model)
On / Off Switch
Continuous Running
Thermal motor overload protection
1" FXF BSP Inlet/Outlet Ports
Protection Grade: IP55
Available in 230v/110v/400v
Order online with Piusi Shop and get free shipping Australia-wide today!
Downloads
PIUSI E120 240V AC Pump - 100lpm