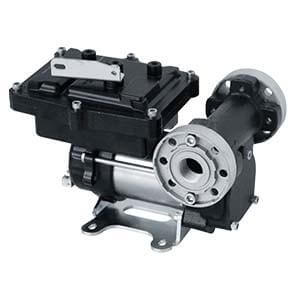 Description
PIUSI EX50 12V DC Pump - 50lpm
The PIUSI EX50 is a compact and sturdy pump that satisfies the strictest ATEX/ IECEx requirements concerning the usage of this equipment in potentially explo- sive atmospheres. It is equipped with built-in bypass valve, non-return valve and anti-noise filter.
New from Piusi is the EX50 ATEX Approved Fuel Transfer Pump
50lpm - choice of 12V DC / 120V AC / 230V AC
Suitable for use with Aviation Fuels / Gasoline (Petrol), Diesel or Kerosene
Compact and sturdy construction;
Cast-iron body;
High-efficiency pump able to dispense up to 50 l/min (13 gpm) with little voltage draw, ensuring a longer life;
Anti-noise filter (electromagnetic compatibility EMC);
Fully-flanged components: pump, flow meter and filters can be fitted or replaced without the use of sealing paste, making the connections quick and safer;
An integrated bypass valve; thermally protected.
PIUSI EX50 satisfies the criteria of the stringent ATEX/IECEx directives regarding product safety, specific to Europe.  In additional PIUSI EX50 is UL / ULC approved for use in the United States / Canada markets.
Duty cycle: 30 min on/ 60 min off
Background
As of 1st July 2003, the ATEX directive came into  force  throughout  the  EEC.  This  directive  became  an  obligatory  requirement  for all  electrical  and  mechanical  equipment intended  for  use  in  dangerous  areas. 
Potentially explosive atmospheres exist where there is a risk of explosion due to mixtures of gas and air, steam and air, dust and air or other explosive combinations typical of petrol vapours.
If  the  electrical  or  mechanical  material must  be  used  in  areas  where  there  is  an  explosive  atmosphere,  it  must  be  designed and  built  so  as  not  to  create/  to  eliminate sources  of  ignition  such  as  sparks,  hot  surfaces  or  static  electricity  and  all  sources  of combustion  able  to  ignite  these  mixtures.
Risk  areas  for  environments  where  gas and  flammable  vapours  are  present  can range  from  AREA  0  (constant  risk  of  explosion)  to  AREA  1  (risk  of  explosion  probable)  and  AREA  2  (low  risk  and  any  risk of  explosion  persists  for  a  short  time  only
PIUSI extends its experience to the world of  explosive liquids
In light of the regulations in force regarding the use of materials in potentially explosive environments, Piusi is broadening its horizons in search of solutions for transferring fluids, enhancing its range with new products for dispensing explosive liquids.
The experience gained with diesel transfer pumps, together with the growing demands of the market, has prompted the development of this new line of petrol, kerosene and diesel fuel pumps that satisfy the criteria of the stringent ATEX directive. 
This is attested by CESI certification number CESI12ATEX033X and the IECEx certification scheme,  certification  number  IECEx  CES12.0016X.
Order online with Piusi Shop and get free shipping Australia-wide today!
Downloads
PIUSI EX50 12V DC Pump - 50lpm