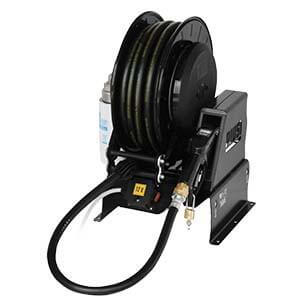 Description
PIUSI 12V Pitstop DC Pump - 45lpm
The PIUSI PITSTOP is a dispenser unit with two DC pumps, automatic hose reel, water filter and automatic nozzle with 14 meter. hose integrated into a sturdy supporting structure. Easy to install, versatile and compact, this dispenser is the all-in-one solution for setting up a perfect mobile refueling unit.
PUMP 12V DC 45lpm Piusi Pitstop supplied c/w Pump, Spring Rewind Hose Reel, 15m x 3/4" ID Hose, Automatic Shut Off Nozzle.
Dispenser unit with automatic hose reel; 15 metres of hose with automatic nozzle allow dispensing up to 45 l/min with DC power supply.
The hose reel, the two DC pumps and the automatic nozzle are integrated in a sturdy supporting structure.

Easy to install, versatile, compact, necessary to complete mobile or fixed tanks.
PIUSI PITSTOP DC consists of:
Hose reel.
Side safety guards.
Adjustable arms with end-of-travel hose stop.
Diesel hose 3/4"-15 m (1" - 10 m).
On/Off switch.
Swivel.
Automatic nozzle.
12 Volt or 24 Volt DC pumps.
Sturdy metal supporting structure.
Cables.
On demand: fitting of PIUSI filters of the water absorption cartridge type.
On request: fitting of PIUSI K24, digital turbine meter

Order online with Piusi Shop and get free shipping Australia-wide today!
Downloads
PIUSI 12V Pitstop DC Pump - 45lpm