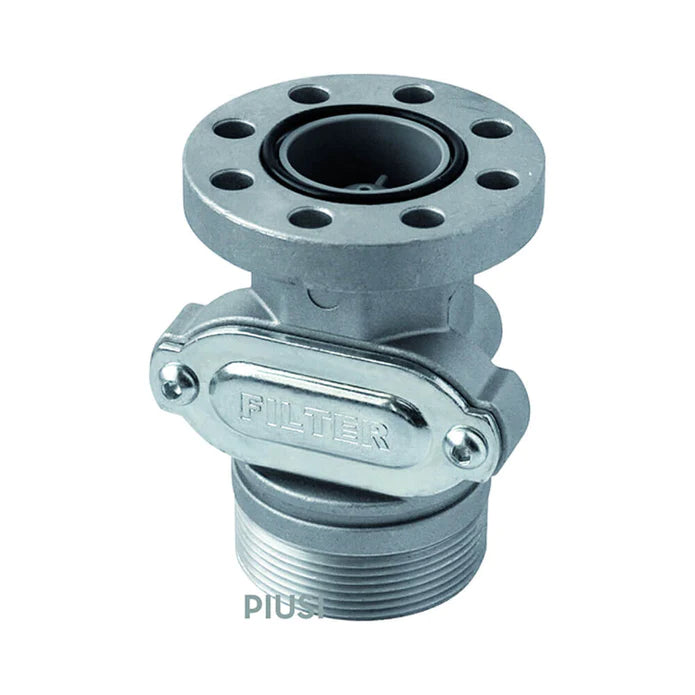 Description
PIUSI 2" Drum Connector to suit X50/G6
The Piusi Drum Connectors are designed to provide a convenient and secure connection between a pump and a drum or tank. These connectors are particularly useful for fuel dispensing applications, where it is essential to prevent debris and large particles from entering the pumping system and contaminating the fuel.
One of the key features of the Piusi Drum Connector is the integrated filter. This filter is easily accessible, allowing for quick inspections and maintenance. By capturing and trapping contaminants, such as dirt or sediment, the filter helps to ensure that the fuel remains clean and free from impurities during the dispensing process.
Another advantage of the Piusi Drum Connector is their flanged connection design. This design eliminates the need for sealing pastes or Teflon tape when connecting the filters to Piusi pumps. The flanged connection provides a secure and leak-free attachment, simplifying the installation process and reducing the risk of fuel leaks.
Overall, the Piusi Drum Connector offer a convenient and efficient solution for connecting pumps to drums or tanks. With their integrated filter and easy-to-use flanged connection, these filters help maintain fuel quality and minimize the risk of contamination during fuel dispensing operations.
2" BSP drum connection.
Integrated filter.
Options with valve and/or flanged.
Suitable for use with diesel, petrol, oil and kerosene.
Dimensions: 10cm (W) x 20cm (H) x 10cm (L) – 5kg.
Packaging: 133 x 98 x 85mm
Kit includes:

2" M BSP drum connection.
1" F BSP outlet.
Integrated filter.
Integrated valve.
Order online with Piusi Shop and get free shipping Australia-wide today!
Downloads
PIUSI 2" Drum Connector to suit X50/G6