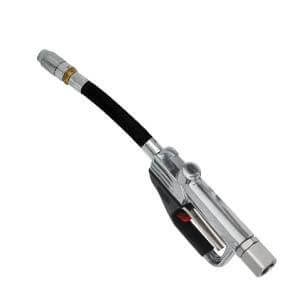 Description
PIUSI Pistol One Oil Nozzle - Flexible Spout
The Piusi Pistol-one is a manual nozzle suitable for the delivery of a wide range of oils at high flow rates. Its sturdy design makes this nozzle suitable for heavy duty operations.
Flexible Spout Swivel Anti Drip Tip 3/4" BSP Inlet 90lpm
High flow capacity nozzle for oil dispensing.
3/4" Female BSP Inlet
Pistol ONE is a new nozzle specially designed for heavy-duty work conditions and for anyone requiring high flow rates, low flow resistance at high pressures, and ease of handling and use.
The aluminium body is shock resistant, ergonomic and compact.
The valve is balanced to reduce pressure on the trigger to the utmost, to make the nozzle extremely easy to use.
Nominal flow rate 90 l/min
Max operating pressure 100 Bar
Burst pressure 300 Bar
Flow resistance 0.6 bar at 60 l/min.
Trigger operating force at 100 Bar: 9 Kg
Swivel at entry with strainer filter
Order online with Piusi Shop and get free shipping Australia-wide today!
Downloads
PIUSI Pistol One Oil Nozzle - Flexible Spout