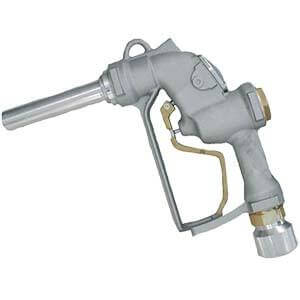 Description
PIUSI A280 Diesel Automatic Nozzle
The PIUSI A280 is the biggest nozzle among the Piusi range of automatic fuel nozzles with its flow rate up to 280 l/min and spout OD 38,5 mm. Fully automa- tic thanks to the structural device that stops dispensing when the tank is full; it comes with a built-in swivel to guarantee maximum versatility.
Suitable for the refuelling of large vehicles and heavy plant equipment. These Piusi fuel nozzles are to be used in a pump installation only, and will shut off when the tank is full.
Automatic Diesel Nozzle
Maximum flow rate: 280ltr Per Min
Suitable for diesel
Supplied with 1 ½" F BSPP Swivel
Max Flow Rate (lpm) - 280
Max Pressure (Bar) - 3.5
Spout OD (mm) - 38.5
Inlet - 1 1/2" F BSPP Swivel
Diesel
Order online with Piusi Shop and get free shipping Australia-wide today!
Downloads
PIUSI A280 Diesel Automatic Nozzle