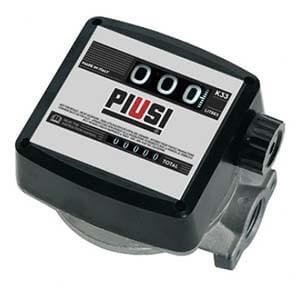 Description
PIUSI K33 Mechanical Meter
The PIUSI K33 and K44 are the bestseller mechanical meters in this market. Reliable, easy to install and to calibrate, they are equipped with a nutating disk that allows them to be installed in all four flow directions. The display is available in both three or four digits, according to the model chosen.
The Piusi K33 mechanical fuel flow meter measures the exact quantity of the dispensed diesel fuel or oil through a nutating disk system. The K33 fuel flow meter measures up to 999.9 litres, and is reliable, inexpensive, and easy to install. Thanks to their reduced flow resistance, these Piusi diesel and oil flow meters can also perform well under gravity flow conditions. There are separate models available specifically for diesel fuel and oil.
Oil and diesel flow meter
Flow rate: 20-120ltr Per Min
Can be rotated to allow flow from 4 directions
1" F x F BSP Inlet/Outlet
Nutating disk system
Accuracy +/-1% after calibration
3 digit resettable and 6 digit non-resettable totaliser
Order online with Piusi Shop and get free shipping Australia-wide today!
Downloads
PIUSI K33 Mechanical Meter