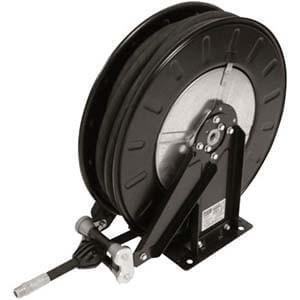 Description
PIUSI Spring Rewind Hose Reel - 19mm id x 15m
The Piusi OPEN HOSE REEL for oil, entirely Made in Italy, includes a built-in heavy duty spring. It can be installed on a wall or inside a closed cabinet, suitable for any kind of oil.
The Piusi Open Automatic Oil Hose Reel is designed for high pressure oil dispensing systems in garage and workshop environments.

Thanks to its sturdy steel structure and four way roller mechanism to stop friction wear to the hose when unrolling, this retractable oil hose reel is made to last even in heavy duty environments.

The Piusi open oil reels also benefit from adjustable arm brackets to allow for easy positioning and a hose stop for locking the hose at the desired length.

Available with a choice of hose lengths or bare should the user wish to add their own specified hose, the Piusi retractable oil hose reel is suitable for a range of requirements.
Features:
Automatic spring rewind oil hose reel
Sturdy steel structure
Rachet to prevent lock up when hose is extended
4 way rollers to facilitate smooth unrolling
Hose stop for locking at chosen length
Adjustable arm brackets for easy positioning
Supplied bare or with different hose lengths

Hose length (m) - 15

Working Pressure (Bar) - 60

Pressure drop - 16 @ 30lpm

Inlet- 3/4" Male BSP

Outlet - 3/4" Male BSP
Order online with Piusi Shop and get free shipping Australia-wide today!
Downloads
PIUSI Spring Rewind Hose Reel - 19mm id x 15m