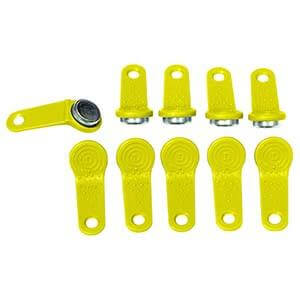 Description
PIUSI FMS User Key Yellow PKT 10
FMS - Software / Manager Key / USB Kit / 10 x User Keys to suit Pump Units with Integrated FMS
The Self Service Desk software for fuel management systems stores all refuelling transactions recorded from the pump and allows the user to analyse this information in an easy to comprehend manner. This Piusi software can illustrate the fuel transactions within a particular date range and can also allow the user to view transactions for an individual vehicle, operator or pump.
The Self Service Desk Fuel Management System Software allows data to be transferred directly to a PC via hardwiring or manually via a Manager's data touch key, enabling instant download via a key reader connected to the PC.
This fuel management software is suitable for the Cube 70MC, Self Service MC, Self Service FM and the MC Box fuel management systems, as these units have PC Data Interfaces.
Packet of 10 x Yellow I Button User Keys suitable for use with Piusi Electronic Fluid Management Systems 
Suitable for use with the Piusi Original and now Piusi 2.0 Electronic Fluids Management hardware / software platforms
Order online with Piusi Shop and get free shipping Australia-wide today!
Downloads
PIUSI FMS User Key Yellow PKT 10