PIUSI FMS 240V AC 70lpm Cube - 70 MC 50 Users, Suction Filter, Pump, 4m Delivery Hose, Auto Nozzle
Tax included.
View full details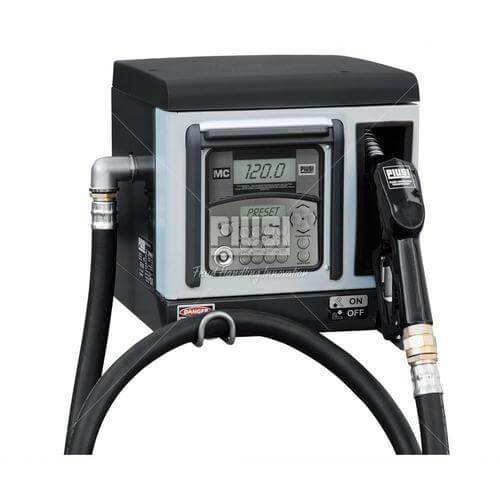 Description
PIUSI FMS 240V AC 70lpm Cube - 70 MC 50 Users, Suction Filter, Pump, 4m Delivery Hose, Auto Nozzle
The PIUSI CUBE MC is the upgraded version of the world-famous Cube dispenser equipped with an electronic panel able to manage up to 120 users and 255 transactions. The sturdy structure includes a self-priming vane pump, built-in bypass, automatic nozzle, and integrated nozzle holder with a start/stop pump lever.
NOTE Additional Software / Key Kit Required code FMS-F1414400A
The Piusi Cube 70MC Fuel Management System is a compact, easy to install diesel dispenser for private use, which ensures fast and precise dispensing by authorised personnel. The Piusi unit, which comes standard with a nozzle holder, internal diesel transfer pump, motor, and electronic meter, is capable of recording the date, time, and amount of fuel dispensed for the last 200 transactions. As well as fuel monitoring, it also provides fuel security by only giving authorised users access to the tank's contents. 

The standard version of this fleet fuel management system can monitor up to 50 users, although a version for controlling 120 users is available. Using either a pin code system or the electronic data keys available, this system is set up at the unit. The transaction data can be viewed from the fuel management system's screen. However, there is additional Self Service Desk software that allows the data to be exported to a computer.
The Cube 70 MC Fuel Management Systems can be fitted to a wall, directly onto the tank, or on a stand alone pedestal.
Controls up to 50 or 120 users (depending on the model)
Panther diesel transfer pump
Flow rate: 56-70ltr Per Min (depending on model)
Fuel monitoring features
Local memory of 200 transactions
K600 Flow Meter
Automatic nozzle and nozzle holster
4m x 1" Delivery Hose
Available in 12v/24v/230v
Pre-selected dispensing
local memory capable of storing data for the last 200 deliveries
can accept vehicle registration numbers and odometer readings
records time and date of dispensing
dedicated software for making printouts of dispensing details and individual user summaries
magnetic keys for user identification
electronic control unit with display and keypad for entering code numbers
magnetic key (Dallas key) for user identification
USB interface to PC
Flow rate up to 70lpm
Continuous duty cycle
240V AC
50mm inlet
Noise level below 70dB
self supporting stamped plate structure, treated against corrosion and paint finished, ready to install
self priming vane pump, fitted with bypass valve, mounted on anti-vibration supports. Mechanical seal
self ventilated enclosed motor (IP 55)
suction filter for pump protection
pulse meter with oval gears
automatic nozzle complete with flexible hose and swivel connection
inbuilt nozzle holder provided with pump start/stop switch 
Order online with Piusi Shop and get free shipping Australia-wide today!
Downloads 
PIUSI FMS 240V AC 70lpm Cube - 70 MC 50 Users, Suction Filter, Pump, 4m Delivery Hose, Auto Nozzle