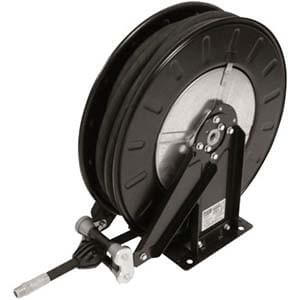 Description
PIUSI OPEN HOSE REEL 1/2" + 15m Hose, Small
OIL AUTOMATIC HOSE REEL
Automatic hose reels specially designed to work to high oil pressures and flow rate.
High quality materials structure to assure reliable performances.

FEATURES
The 4 rolls hose guide on the arms facilitate the unrolling of the hose, avoiding friction that would cause a gradual deterioration

The hose can be locked at the desired length

Ratchet prevents lockup when hose is completely extended

Corrosion resistant: the hot galvanized steel structure is moulded and coated with electrostatic polyester powder UV rays resistant

Easy and versatile installation through the rotating support plate and the adjustable arm positions

Hose stop
- spring-driven retractable hose
- Safety: lateral protective covers (optional)
Hose:  1/2" BSP
Max. Working Pressure:  60Bar
Pressure Drop:  16 @ 30 L/MIN*
Inlet with Swivel:  
1/2" Male
Outlet Hosetail:  1/2" Male
Hose:  15m
Order online with Piusi Shop and get free shipping Australia-wide today!
Downloads
PIUSI OPEN HOSE REEL 1/2" + 15m Hose, Small - Oil