PIUSI K24 ATEX/IECEX FLOW METER 1" BSP for Diesel, Gasoline, Kerosene - Litre
Tax included.
View full details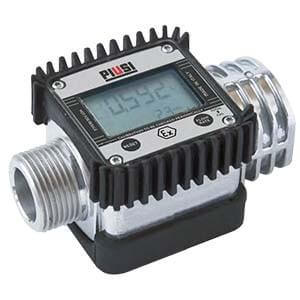 Description
PIUSI K24 ATEX/IECEx Flow Meter

PIUSI K24 ATEX/IECEx is the new flow meter for non-commercial use, for measuring the dispensed quantity of Gasoline, kerosene and diesel.
ATEX/IECEx QUALITY
The digital flow meter for Gasoline, kerosene and diesel meets the ATEX/IECEx requirementsf or the use of materials in potentially explosive atmospheres. K24 ATEX/IECEx has a sturdy aluminum body and a sealed electronic board, making it suitable for use in any working condition.

Easy to install, in line or at the end of the dispensing pipe, it has a display that can be applied in various positions to facilitate reading. It is the ideal tool for managing the fluid dispensed.
MAIN FEATURES
K24 ATEX/IECEx also includes these characteristics:
Pulse signal type: single-channel, reed
switch. Electronic board with LCD display:
Partial 5 digits from 0.1 to 99999, Total 6 digits 1 to 999999
Resettable total available.
Flow rate indication.
Repeatability 0.3%.
Pressure drop < 0.03 bar at 120 l/min
Can be calibrated.
FEATURES
BURSTING PRESSURE 100 BAR
LCD DISPLAY
FLOW-RATE INDICATION
EASY TO CALIBRATE
UL VERSION AVAILABLE
Max Operating Pressure: 20Bar, 300Psi
Accuracy: ±1%
Repeatibility: 0,3%
MATERIALS
BODY: ALUMINIUM
GEARS: TECHNOPOLYMER
Order online with Piusi Shop and get free shipping Australia-wide today!
Downloads
PIUSI K24 ATEX/IECEX FLOW METER 1" BSP for Diesel, Gasoline, Kerosene - Litre