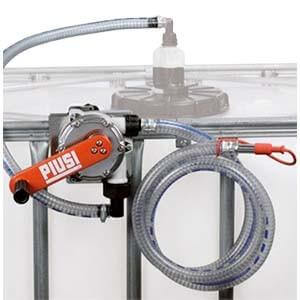 Description
PIUSI AdBlue® Hand Pump with IBC Side Mount
The Piusi HAND PUMP SIDE is a rotary vane pump suitable for transferring AdBlue®. It maintains all the main features of the Piusi Hand Pump while Its ergo- nomic bracket guarantees a perfect IBC handling.
DN50 Male BSP Thread, 1m Suction Hose, 2.5m delivery hose, stainless steel spout, IBC Bracket.
The Piusi Stainless Rotary IBC AdBlue® Pump is a durable solution for dispensing AdBlue® directly from a square bar IBC.
The self priming rotary style AdBlue® hand pump benefits from a sturdy stainless steel outer case and smooth operation thanks to its rolling handle grip.
This careful design and quality construction makes it a much more reliable model than previous manual AdBlue® transfer pumps on the market. 
It is mounted onto an IBC bracket that is designed for fitting to the top bar of an IBC only, along with 1m suction hose, 2.5m delivery hose and a stainless steel spout with stopper to prevent the gathering of crystallisation.
Please note: The SEC connector pictured is not supplied in this AdBlue® IBC pump kit, but is available to be purchased separately (see accessory table).
Features of the Piusi IBC AdBlue® Hand Pump Kit:
Self-priming rotary AdBlue® pump
IBC bracket for fitting to top bar of an IBC only
Stainless steel outer pump casing
Flow rate: 380ml per revolution
1m suction hose & 2.5m delivery hose
19mm stainless spout c/w anti-crystallisation stopper
Order online with Piusi Shop and get free shipping Australia-wide today!
Downloads
PIUSI AdBlue® Hand Pump with IBC Side Mount